The numbers: everything you need to know about embroidered initials on shirts!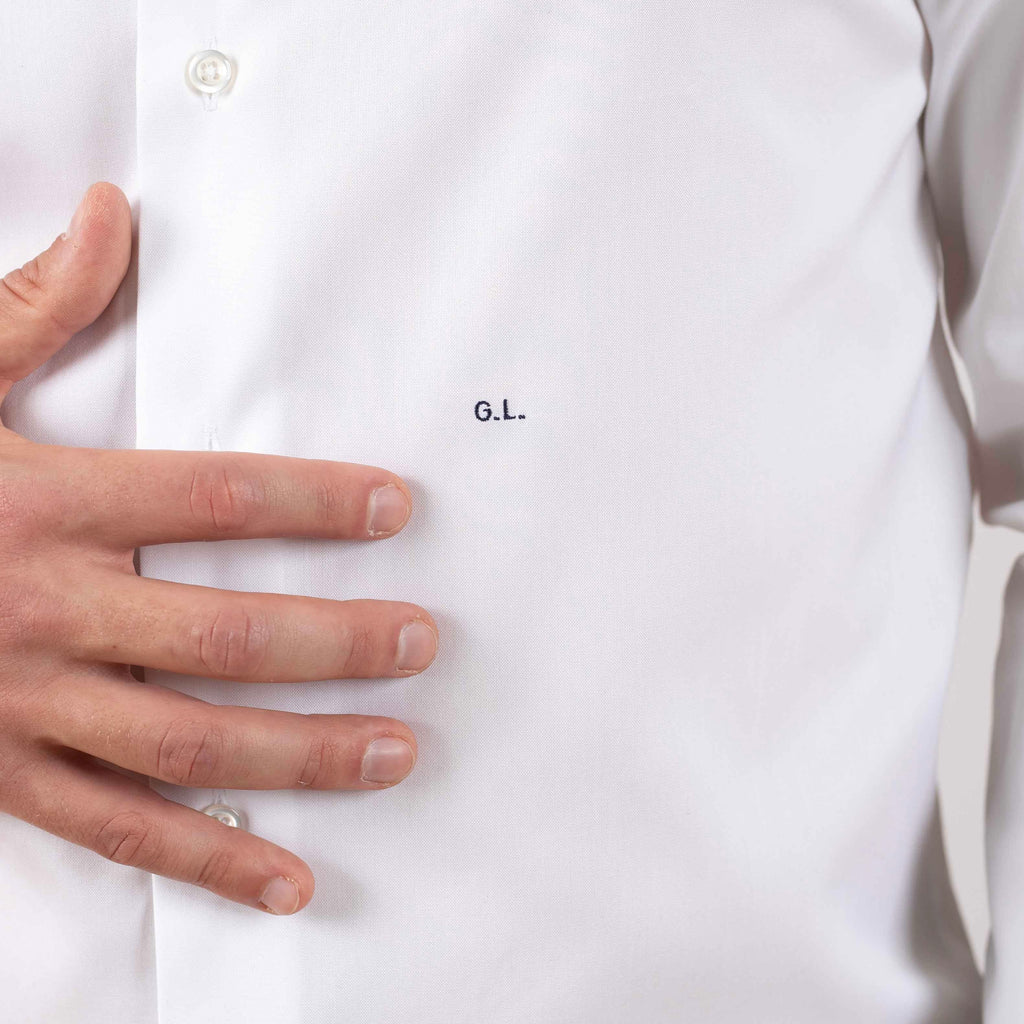 What are shirt digits?

Don't worry, we are not questioning you and mathematics has nothing to do with it: digits is the term used to indicate the initials that are embroidered on garments such as the shirt, a real touch of style that makes it unique and truly personal, if done in the Right!

Let's find out more about this habit with a long past!
The origins of numbers
The numbers on the shirts were born historically for a practical need. Once families were numerous, and for this reason there was the need to distinguish one's clothes from those of others. Embroidering initials used to be a better way to do it, which over time has turned into a sign of elegance.
The right place for initials
It seems like a trivial detail, but the canonical position of the numbers is essential and can make the difference between those done in a workmanlike manner and those of little taste. The initials must be embroidered on the left side, approximately halfway between the chest and the waist (which corresponds, counting from the top, between the fifth and sixth button, or between the fourth and fifth). The distance to the button placket is approx. 7 cm.

Sleeves and collars are forbidden for the shirt numbers of those who know how to dress with refinement, because they would be too visible, a source of pride to show and no longer a finesse to hide. And whoever wears Garuffo Shirts is a master of style, so… Only textbook figures!
Embroidery: typology and colors
The numbers range from 2 to a maximum of 3, they are the initials of the name and surname (in this order) and must be embroidered strictly by hand: the machine would not sew the letters with the same grace as the expert hands of a seamstress. To be precise, stem stitch or chain stitch are used (ask grandma what they are!).

The initials that make up the monogram can be made in capital letters or in capital italics. For the choice of font, simplicity applies: too complex characters should not be used, because they could appear as spots and not as well-defined letters.

Blue is the standard color for the initials on the light blue or striped shirt, in French and dark blue nuances, while on the white shirt softer colors are preferable, which do not contrast too much with the whiteness of the fabric such as powder blue.
Would you like a shirt with your initials too? On www.garuffo.com you can choose your favorite shirt and add the numbers, choosing letters and colours, before adding it to your cart!